Texas Helicopter Pig Hunting
Helicopter Pig Hunting is the only year-round feral pig hunting business in the U.S. We offer a full-time staff, helicopters and 2.5 million acres of West Texas helicopter hog hunting land to choose from.
Wild hogs are among the most destructive invasive species in the United States today. Millions of the animals are wreaking havoc in at least 39 states and four Canadian provinces; half are in Texas, where they do an estimated $400 million in damages annually.
There are now an estimated 2.6 million hogs in Texas, more than anywhere else in the United States. Their foraging causes millions in annual agricultural damage. ​
Helicopters
The Divided Find has an onsite hanger which houses our R44 Raven Helicopters.
R44 Raven II
Four-seat R44 Raven II helicopters are high performing, reliable and easy to maintain. R44s have a two-bladed rotor system, T-bar cyclic and the latest in Robinson technology including streamlined instrument panels and crashworthy bladder fuel tanks.
The R44's aerodynamic fuselage optimizes airspeed and fuel economy. Hydraulic controls eliminate feedback forces and provide responsive handling. A low tail-rotor tip speed, newly designed muffler and large cambered tail reduce flyover noise.  Maximum total hunter weight 430 lbs, flying 2 hunters per flight.  (not one hunter over 300 pounds).
***430 lbs  total weight limits in the R44 (double occupancy) – no one person over 300 lbs can fly as seats are rated at a maximum of 300 lbs.
Let our team know that you are interested and want more information. We'll be in touch within 24 hours.
Helicopter
Experience full of adrenaline
Herds of Free-Ranging Exotics
Ranch Style
Accommodations with Texas Style Cuisine
Helicopter Pig Hunts:
2 Hours: $2495 per hunter (double occupancy)
Additional hour(s): $1247.50 per hunter
TEXAS RANCH PACKAGE:
$395/night per person (double occupancy)
*Over 430lbs combined double occupancy weight will incur a $500 up-charge and fly single occupancy. No single person over 300lbs.
*Must be 18 years or older to fly in the helicopter
*No children under the age of 12 are permitted on the ranch. 
Corporate Events
Any event sponsored by a company that targets its employees or clients can be called a corporate event. Unlike most traditional corporate events, we offer an event unlike anything you have ever experienced before.
The goal of most corporate events is to build trust and teamwork, recognize achievements, and build tight connections with new or loyal clients. Imagine the shared experience and the bonds that can be built when you combine your dedicated team of professionals with ours!
Corporate Meeting Games
Your standard corporate event planner may have some pre-planned games or activities in place. We actually don't have any set corporate meeting games. Take the meeting notes and use them to start a fire in the fire pit, then head over to the rifle range and pop off a few rounds to warm up before the hunt.
Meeting, Dinners and Full Metal Activities
We have a full-time staff of trained professionals that include experienced pilots, marksmen, guides and our own personal chef. Custom cooked meals all day
Aerial Target Practice
Rifle and Pistol Range
ATV Tours & Hunting
Helicopter Pig Hunting (depredation)
Dining Room with Table and Bar Seating
Fire pits
Trap & Skeet
Rifles
Shotguns
Handguns
No neighbors
No interruptions
24/7 staff on site
There is no better way to build a long-lasting bond with your team than taking them to our 2.5 million acres of hunting land.  Forget the hotel retreat with continental breakfast, grueling conference room meetings, and sightseeing activities.  This is the one place where you can eat, meet and literally shoot the shit…out of some feral hogs.
Airport transfers both ways from San Angelo
Motor coach brings you to the hunting location and serves as a lodge in field (lunch, drinks, bathroom, satellite TV, WIFI and socializing)
Lodging (double occupancy) and 3 meals a day with an onsite Private Chef (non-alcoholic beverages included)
Safety and Shooting Ranch Training (learn to clear the gun in flight)
Exotics Ranch Tour on Side by Side ATV's with guide
Access to trap, skeet, 5-stand and 1600-yd long rifle range
Sports bars and fire pit
*over 430lbs combined double occupancy weight will incur a $500 turbine or single occupancy up-charge
Airfare
Gratuities
License
Alcohol not provided – will stop at liquor store in-route to lodge
Exotic Add On – Black Buck, Axis, Dall, Blk Hawaiian, Red and Corsican Sheep, and more!
Predator Hunts:
Coyote Hunt
Bobcat Hunt
Fox Hunt
Coon Hunt
Additional hour of Helicopter Hunting $2,495 per hour 
Additional night Lodging $395/night (double occupancy)
Helicopter Ariel Target Experience – $200 per flight/per person (double occupancy)
*Upgrade to Single Occupancy – Upon Availability
Texas Style Cuisine
Chef Jerry's ingenuity in the kitchen is stimulated by his belief that food should not be overworked but rather appreciated for its simplicity and natural perfection. This philosophy is evident in his innovative menus that focus on fresh, local ingredients procured from a network of artisans and farmers.
Let our team know that you are interested and want more information. We'll be in touch within 24 hours.
DICK
Knowledge of booking staff: 10
Lodge – quality of accommodations, cleanliness, grounds: 10
The place you dream of living forever.
Lodge staff: 10
Everything taken care of.
Meals: 10
Chef Patrick feeds you like a king. Food was excellent.
Hunting Guides: 10
Jim was with us from airport pickup to departure. Every question answered, great instruction and range time, ranch tour, and everything for the heli hunt.
Pilot Garrett is a hog hunter, and the best helicopter I have flown with. He found the pigs, and kept us where we could shoot them.
Quality of the hunt: 10
Top experience of a lifetime. I want to do this again. And again!
Interested in fishing/hunting in Alaska: Yes
Interested in pheasant hunting at Historic Thunderstik Lodge in Chamberlain, SD: Yes
Need of any Moose, Caribou or other Big Game Tags: No
Additional comments
Hope to do this again !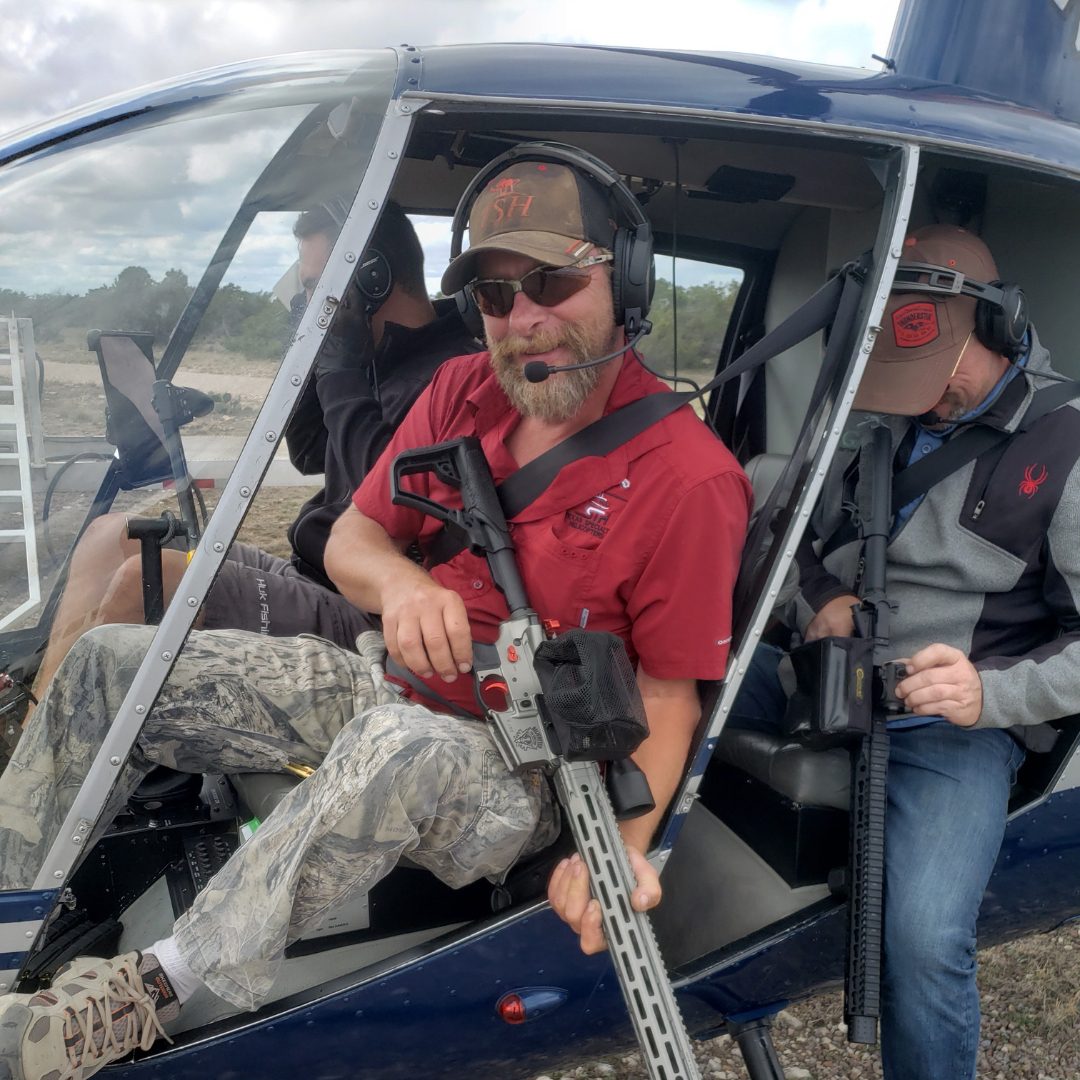 RAYMOND MEGIE
Knowledge of booking staff: 10
Everything was well communicated and explained.
Lodge – quality of accommodations, cleanliness, grounds: 10
Nice little 2 person cabin and main lodge was clean and well stocked.
Lodge staff: 10
Everyone was great
Meals: 10
The chef was incredible. We ate very well.
Hunting Guides: 10
Everyone was great
Quality of the hunt: 10
Exceeded my expectations. We will be back next year.
Additional comments:
We had a great time. We will be coming back with friends.